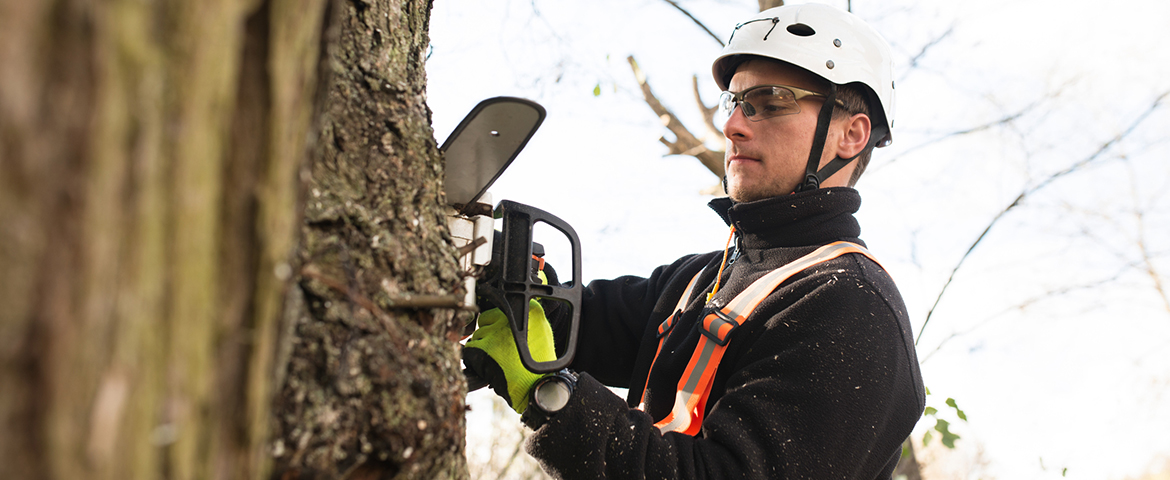 7 Benefits of Hiring an Arborist for Tree Pruning & Trimming
An arborist is an individual who studies, cultivates, and manages trees and other perennial woody plants. In common vernacular, an arborist is often described as a tree surgeon. A qualified professional arborist is skilled in tree pruning or tree trimming and can help maintain or improve the health and appearance of trees. Read on to learn about the benefits of professional tree pruning and trimming services and how an arborist can assist you.
Why Should You Prune Trees?
There are several reasons that a tree may require pruning or trimming services:
Remove diseased, infected, or dead branches
Straighten or nourish young trees for proper, secure, and safe growth
Improve structure and safety by reducing wind resistance
Ensure proper removal of branches that may have been weakened or damaged by adverse weather
Thinning out inner branches to improve sunlight penetration
Prevent the obstruction of hydro wires or light standards
Eliminate interference with gutters, roofs, or chimneys
7 Advantages of Hiring Arborists for Tree Pruning & Trimming
Keep Your Trees Alive
It helps to understand that every tree has unique requirements when it comes to trimming and pruning. Using incorrect techniques to prune trees can cause them severe damage and even lead to their death. A qualified arborist has adequate knowledge of trees and their needs and uses appropriate tree care methods. They know how to cut your tree correctly without damaging it in any way. Additionally, they have the expertise to identify and care for diseased trees.
Ensure Long-Term Tree Health
Trees that are maintained and cared for properly tend to grow healthier and live much longer. Professionals can provide you with tree trimming services to keep your trees in great shape.
Enhance Property Protection
If you do not maintain your trees, they can cause damage to their surroundings, especially during storms. Arborist services can help protect your property from the risk of falling tree limbs. These specialists have the experience and skills to trim trees and prevent falling limbs from causing injury or damage.
Improve Curb Appeal
When properly cared for, trees are healthier and look better. Arborists can strategically prune the branches to create a clean and streamlined appearance. Regular tree pruning can help them grow a certain way to prevent low-hanging branches or wayward limbs.
Proactive Tree Care
It is not easy to identify pest infestation or tree diseases in the early stages if you are not trained and have adequate knowledge about tree care. However, qualified arborists offering tree trimming services know what signs to look for and can spot problems immediately. They can recommend the best solutions to address these issues proactively and save your trees from damage and death due to insects and infections. Additionally, arborists can help prevent a disease from spreading to other plants on your property.
Insurance Against Liabilities
Trees may cause problems with neighbours if you do not trim them regularly. Moreover, your home insurance may not provide coverage if a branch causes any property damage or bodily injuries when you try to prune it. However, professionals who offer tree trimming services have liability insurance, which safeguards you and your property from any damage. It also acts as compensation insurance to protect tree care professionals working on your property. You may ask them about their liability insurance to have peace of mind.
Stay Safe
Tree pruning and trimming services do not only involve a sturdy ladder and a good saw. You may injure yourself and others around you if you do not know how to do it correctly. This is why it is best to call professionals for the job to protect yourself and your family from mishaps during the process while ensuring your trees are healthy and beautiful.
Expert Arborist Services
Extensive tree damage throughout Toronto and the GTA is common after harsh weather conditions in the winter. Professional tree pruning and trimming services from a qualified arborist can help improve the conditions. Additionally, an arborist may also have expertise in the following areas:
Planting and transplanting trees
Fertilizers and nutrients
Tree removal
Pest issues and management
Maintaining overall tree health
Things to Consider When Hiring an Arborist for Tree Pruning
It is essential to note that your trees, especially the more mature ones, can add value and aesthetic appeal to your property. Expert tree pruning or trimming by a professional arborist would be a prudent investment in protecting and enhancing the look and value of that asset. When engaging the services of any contractor, hiring a professional arborist requires research and due diligence. Some crucial factors to consider during the process include the following:
Accreditations – Ask for verification of all professional memberships and certifications
References – Request to see client references or testimonials and examples of previous work completed in your local area. Most companies can provide photos or give you the address of their previous worksites.
Estimates – Secure at least two or three quotes from different contractors.
Contracts – Obtain a detailed work order, in writing, that documents the costs for all services they offer, the anticipated start and end dates of the job, and any worksite clean-up fees, disposal fees, and applicable taxes.
Unforeseen Costs – Ensure that the written contract includes a clause or sub-section that outlines potential costs (hourly rate or a flat fee) for unanticipated problems that may arise during the tree pruning or tree trimming process. Be sure the work will only be completed with your written approval and authorization.
Hire Our Experts for Professional Tree Trimming Services
If you are considering the services of a Toronto arborist for your tree pruning or tree trimming needs, DreamWorks Tree Services can help. With many years of experience in the industry, we have the resources and expertise to offer comprehensive tree care assistance. We provide quality services for a fair price and work to keep trees and plants healthy and beautiful.
Contact us today by calling 647-924-2627 to speak with our professionals and discuss how we can help when it comes to tree pruning in Toronto and the GTA. You can also fill out our online form to request a free property assessment.
Also Read: